The Daily Mail wrote about it, as did The Irish Times and ABC News. It was all over Twitter, Facebook and Reddit. If we'd animated it and set it to music, it probably could have been a hit on TikTok too.
The coronavirus has caused a deeply troubling pandemic with serious consequences around the world. While South Australia never experienced the full lockdown that other parts of the country did, our communications strategy with the SA government recognised that public attitudes toward restrictions would change over time, as per the 'Five stages of grief'. Our goal was to be in front of the public attitude and help shape the behaviour rather than react to it.
One of the differences in SA was that residents were able to go to National Parks as long as they observed social distancing. With so much very serious messaging about
COVID-19, the creative team in Adelaide wanted to share a lighter moment with those out getting some air.
Introducing Social Distancing by Kangaroo.
These signs in National Parks across South Australia used a different method of measuring 1.5m from the rest of the world and our nature loving hikers loved it. First posted on social media, then followed up in news reports, our signs quickly became a welcome relief to everyone hearing the term 'social distancing'.


Here's some examples:
The Kangaroo Sanctuary Alice Springs posted it on Facebook receiving three thousand shares and 335 comments.
One comment from Angelique Preud'homme Please get his sign made on t-shirts or sweatshirts, coasters etc so we can buy them 👏👏🤣😊 I love it and need it! You could use the proceeds for your Skippies in need, I am sure of it. Us who do not live Down Under anymore would surely like to have one of those for sure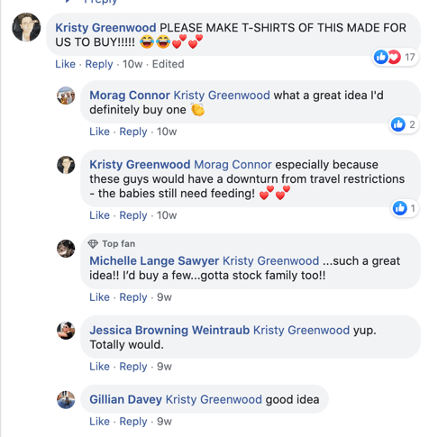 The Daily Mail says: New social distancing signs featuring Australia's national animals are being used to illustrate the importance of staying 1.5 metres apart.
ABC News featured the campaign in its April 7 post about the dos and don't about coronavirus restrictions. Then ABC Adelaide threw down with ABC Darwin on social media over kangaroos vs crocs as a measure of social distance
A kangaroo length apart, or a crocodile? 🤔🐊🦘
Our iconic Aussie animals are being used to measure social distancing in parks across the country. A croc in the NT, and a kangaroo in SA.
ABC Darwin we reckon our unit of measurement is better than yours 🤷‍♀️
Which is your favourite? 👇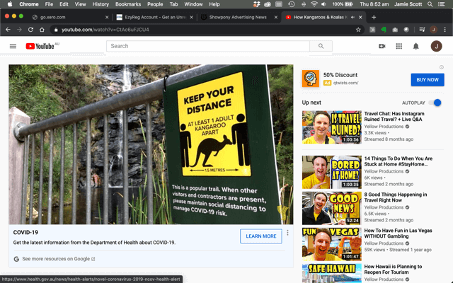 Youtube explainer video featuring our Parks SA campaign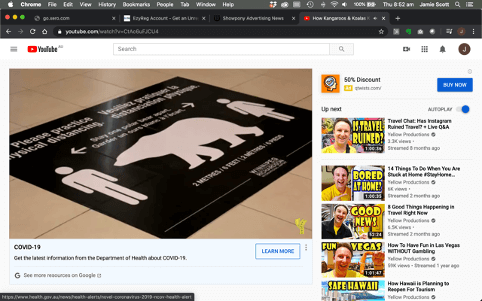 And copycat campaigns from OS
Even the local vet got involved